A cornerstone of Coral Fabrics is Privacy Curtains. Our Keystone and Verdae collections are engineered specifically for cubicles, drapery, bedspreads, and shower curtains. Most are 72" wide and available in a wide variety of stripes, plaids, dobby and jacquard textures in contemporary, transitional and traditional designs that are proprietary to Coral, so available to you for many years to come. They are anti-bacterial, anti-microbial, mildew resistant, washable or dry cleanable and inherently FR. For added functionality, many are printed on 2 sides of our opaque Greenway base cloth.
Keystone Collections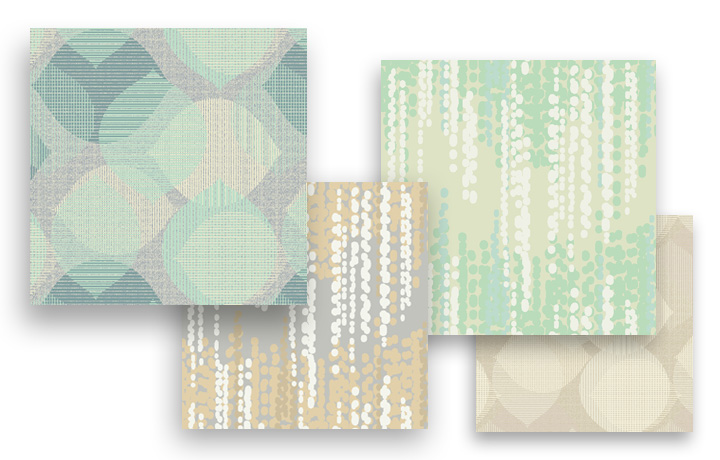 Keystone VIII Series
Our Keystone VIII Collection features pattern Rejoice which is a large scale geometric ombre and Revelry a soothing raindrop design. Both designs are stocked in a variety of colorways that will compliment any Healthcare environment.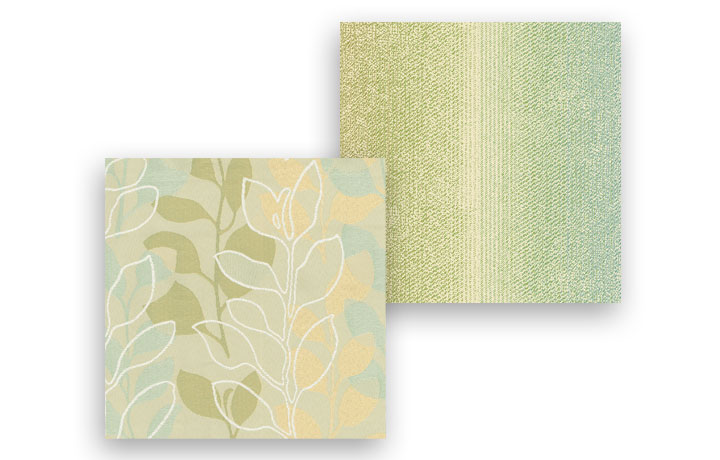 Keystone VII Series
The Art of Healing continues with our Keystone VII Collection. Patterns Oasis and Resonance offer a soothing shadow leaf design and an etheral textured ombre stripe. Both patterns promote serenity and wellness in a healthcare environment.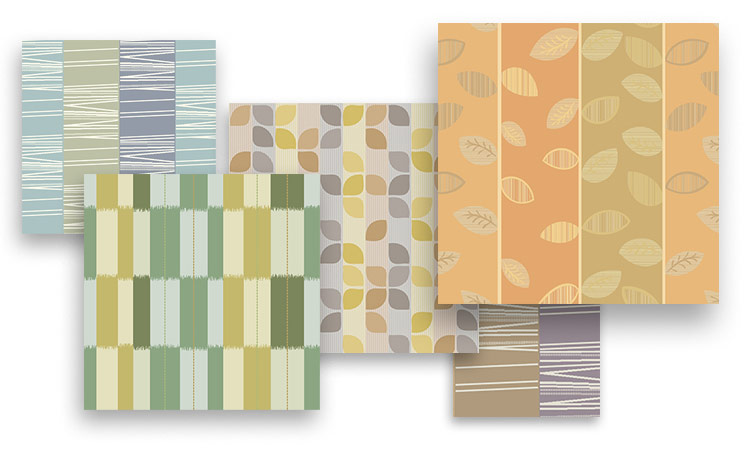 Keystone VI Series
Keystone VI Collection offers soft Striaes, subtle Ombres and sophisticated color schemes which all work together therapeutically to convey balance, harmony and relaxation. The result is a perfect assortment of designs that will complement any healing environment. Keystone VI Collection consists of four exclusive designs in twenty-six trend-setting color ways.
Verdae Collections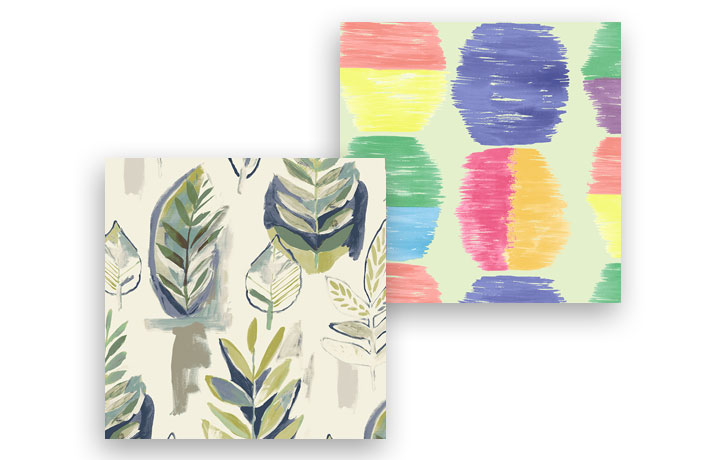 Verdae Plus IX
This Collection consists of two new designs printed on both sides of our Luxurious Sateen Base Cloth (Greenway). Greenway is completely opaque which makes it Ideal for Privacy Curtains and Draperies. As a result of its Opacity, Greenway is an Ideal Base Cloth for Dual Sided Prints. The prints in this Collection were inspired by the Pediatric Healthcare market but are also mature enough to also be used in all environments.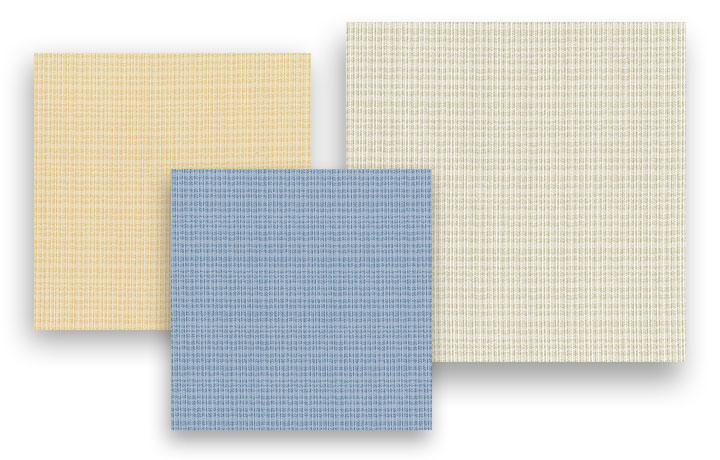 Verdae Plus VIII
The Verdae Plus VIII Collection introduces our new pattern Unite. This pattern is a subtle striae Jacquard that is designed to work in Healthcare environments. Unite is stocked and available in 12 colors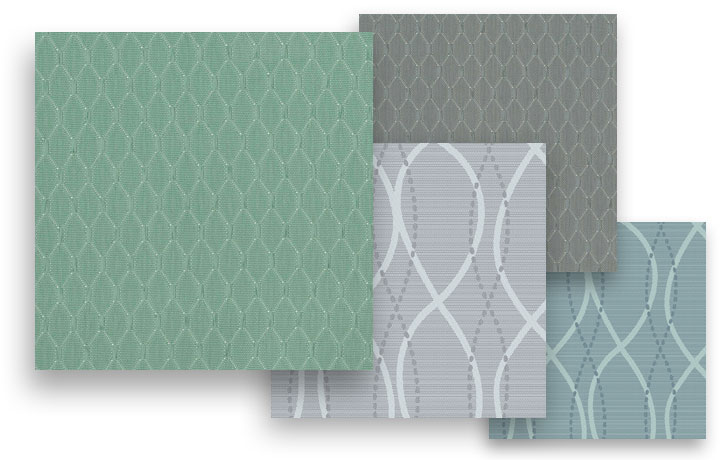 Verdae Plus VII
Our Verdae Plus VII Collection consists of two new patterns. One is a classic geometric dobby diamond design and the other is a transitional soothing wave pattern. Both are stocked in a variety of fresh healthcare colors.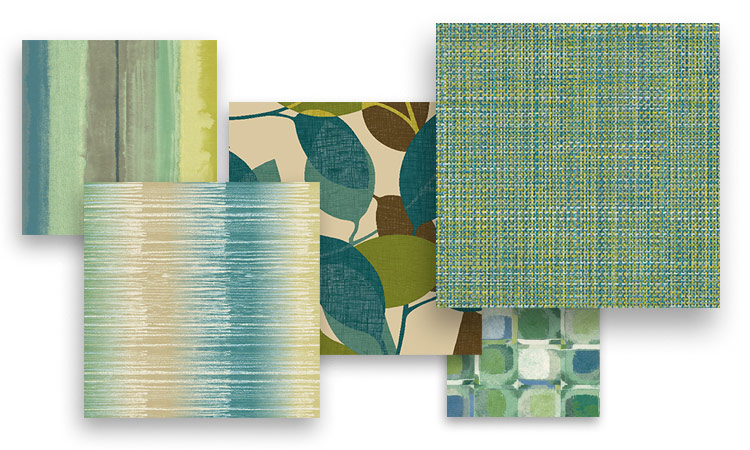 Verdae Plus VI
Our second Collection of styles printed on both sides of a Luxurious Opaque Base Cloth (Greenway). Greenway is completely opaque which makes it Ideal for Privacy Curtains and Draperies. As a result of its Opacity, Greenway is an Ideal Base Cloth for Dual Sided Prints. The "Dual Side" prints in this collection can be customized in a multitude of combinations. Select then specify (when ordering) the pattern and color for the Face Print Pattern and the same or different pattern and color for the Back Print Pattern from any pattern and color in our stocked (In-Line) Design Library. The combinations shown in this collection should also be ordered by specifying the Face Print Pattern and color and the Back Print Pattern and color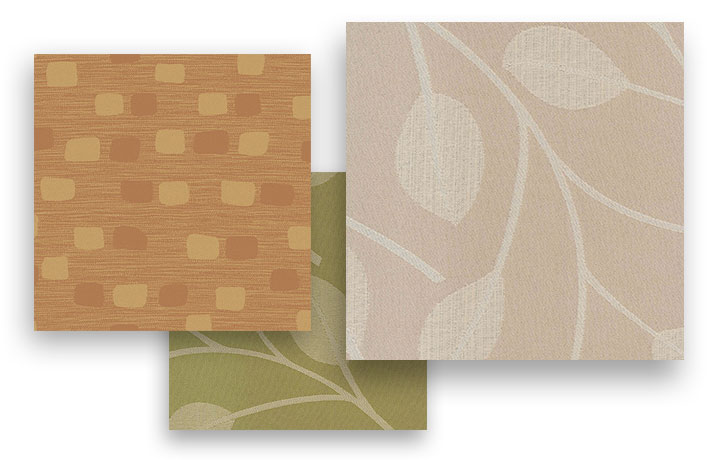 Verdae Plus V
Our Verdae Plus V Collection is our latest introduction of Privacy Curtain Fabrics. This Collection contains both Transitional and Contemporary Jacquard Multi-Colored patterns that are perfect for toaday's Healthcare Environments. All patterns contain an Anti-Microbial Finish